WELCOME to DandM FITNESS
We are a PERSONAL TRAINING and BOOT CAMP facility located in South Arlington at 1110 W. Harris Rd., Ste #118, Arlington, TX 76001. We are committed to helping people achieve their health and fitness goals through quality service, dedication and motivation.
Our Mission
To Make Your Fitness Goals Our Priority As Long As You Make Them Yours.
---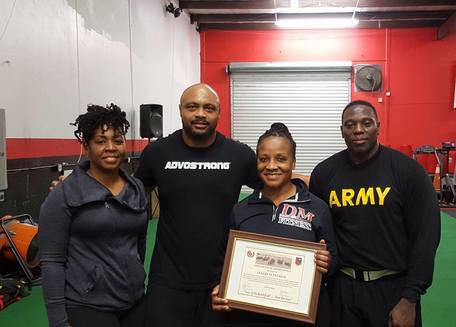 Certificate of Appreciation

​Recently, we were presented with a Certificate of Appreciation from the 136th Expeditionary Signal Battalion. It is an honor and a privilege to have received this and we are so humbled by it. This is truly a reflection not of us, but of US; The DandM Fitness Family.

There's alot of things that we as individuals go through in our everyday lives that we may not be prepared for and that we may try to escape from. Our hope and prayer is that our environment not only gives you that escape from your everyday, but proves to be a training ground of not just your physical, but your mental as well. If how we train is the hardest thing you'll actually do all day, then the rest of your day will be easier and more manageable.

​Thanks again to the 136th as we in return appreciate you and all of our armed forces for your unselfish dedication and sacrifices in your call to duty.
​
Honored, Humbled and Blessed,
DandM FITNESS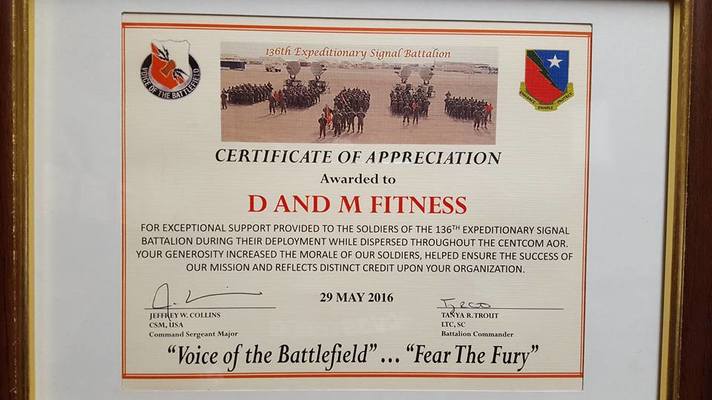 ---
STAY DEDICATED, IT'S NOT GOING TO HAPPEN OVER NIGHT; FINISH THE FIGHT...
Lost 35 lbs | 30" | 8.1% bodyfat

Lost 83lbs | 11 % bodyfat

Lost 11lbs | 10" in chest, waist & thighs

Lost 21lbs | 3% bodyfat

Lost 8 lbs. | 4% bodyfat | 10" Total

Lost 15lbs | 2.7% bodyfat | 4 dress sizes

Lost 11lbs | 2% bodyfat | 3.5" chest & waist

Lost 36lbs | 8.3% bodyfat

Lost 16 lbs. | 2% bodyfat | 10" Total

Lost 15lbs | 3% bodyfat

Lost 39.5 | 8.3% bodyfat

Lost 29lbs | 7% bodyfat

Lost 17lbs | 3% bodyfat | 6" in chest & waist

"YOU CAN CHANGE, YOU CAN FEEL GOOD ABOUT YOURSELF AGAIN, AND YOU CAN HAVE ENERGY!"
---
---