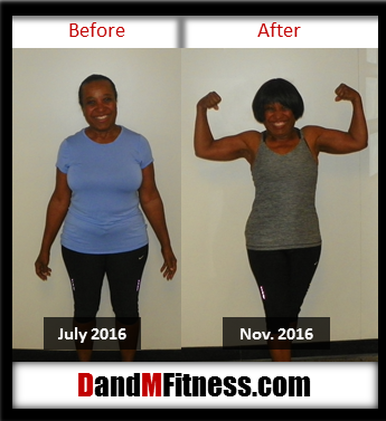 INSPIRED!!!
​Lost 8lbs. | 4% Bodyfat | 10" Total

"My name is Jean Walker and I am a 69-year-old women in her "younger years" inspired and joyous to be on a fitness journey to hopefully be blessed to live to be 110 years old. I am the proud wife of the love of my life Ray, the mother of our beautiful daughter, Valerie, and grandmother aka "Nana" to two amazing grandchildren, Marcus and Morrisa.

My daughter Valerie is my inspiration for my D& M Fitness journey. Valerie is one of my greatest blessing in life as well as my pride and joy. In April of 2015, Valerie decided to become healthier and fit to be able to continue in her lifetime to live a very rich, full life for herself and her family. I watched her tenacity, commitment, perseverance and SUCCESS at D&M. Valerie truly inspired me to commit to do the same for myself so I could reach my articulated goal of living to be 110. Valerie, encouraged me on a regular basis to come and check out D&M Fitness with her. She then treated me to my first month of training at D&M Fitness. So, in August of 2016 I began my journey at D&M with Marilyn as my trainer.

Marilyn and Don introduced me to AdvoCare and personal training the D&M Fitness way. Marilyn began by teaching me proper techniques for training with weights and transforming my body. She encouraged and pushed me (in a good way) to do more and be the best that I can be……. even when I am not sure I can. It is working!!!! Thank You Marilyn and D&M Fitness. In just a few short months I am making progress toward my goal to be healthy, fit and live to be 110 years old (smile) but more importantly to look good, enjoy life with all the people that I love and can keep up with my grandchildren and participate fully in all activities. as I proceed on my journey to live a full, healthy fit life to age 110 years old…or maybe beyond. J

In just 3 short months I have lost 8 pounds and 10 inches thanks to Marilyn and Don at D&M Fitness. My body is transforming and my fitness level has increased. I am committed to continue the journey." - Jean W.


---
---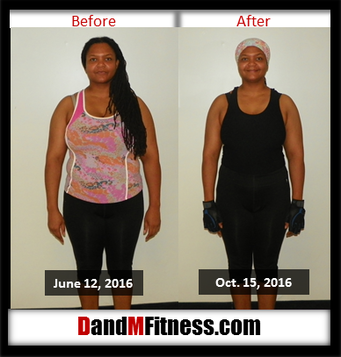 Oh my God!!! Help me Jesus!!! Lord have mercy!!! That's what happens when you experience a workout or boot camp with Marilyn and Don, the Bonnie and Clyde of personal training. They make you call on your "Creator" to help you get through what I call, an experience you will never forget.

I never thought in a million years that I would end up feeling so poorly about myself at 204lbs. I can remember ten years ago when I weighed 145lbs. I was in my mid 30's. I was single with no kids. I had a good paying job, a house, a car, and savings. I was going to school and trying to make a great life for myself. I felt like I was working hard and making the right decisions. Eventually, I got distracted. For some reason, I took it upon myself to be a savior to family, friends, and strangers. I forgot all about me and what I wanted and needed out of life. I was always in everybody else's kool-aid. What do you need?? How can I help?? Ok, I can do it for you. Sure, I got it. How much do you need?? You need me to do what?? I was always saying yes instead of saying no. My finances started to suffer. I lost my house. And, I started to hate my job. I sacrificed my well being, my sanity, and spirit for things that had nothing to do with the uplifting of my life. I started to pack on the pounds. I was stressed out and struggling. Food was my best friend; we were inseparable.

I know I needed to lose weight, but I didn't know how to do it by myself. I have had trainers in the past, but none that really cared about my progress, only the money. One day I was googling for boot camps or personal trainers in the Arlington area and lucked up on D and M Fitness. Coming here was the best decision I had ever made, and at the same time, the scariest. Marilyn is tough, but she cares. She loves you through her grueling workouts. Yeah, it's love when she makes you do a mile or two on the rowing machine. Oh, she really loves you when she makes you do six rounds of arms. At the end of the workouts, she shows her love, again, by making you do 250 butt lifts. Wow, I don't think my boyfriend loves me that much (lol).

Anyway, I am down to 187lbs so far. It's still a challenge, but I know I will be able to get down to 165lbs by sticking with the program. Marilyn always says "You Got This!!" I just have to believe that I do.

Thanks Marilyn and Don

- Melody
Lost 16 lbs. | 2% Bodyfat | 10" Total
---
---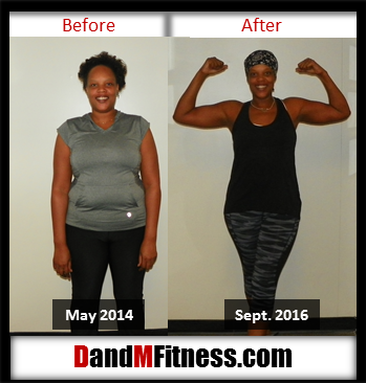 Before: I was Grief stricken, Depressed, hopeless. feeling sorry for myself. I had had enough of complacency. I'd reached my maximum weight so I decided to go on back to D&M my long-time trainers. For fitness help.

After: Gained clarity, strength, I am hopeful and thankful. After 2 years of working out eating better and deciding to make a commitment to a healthier lifestyle. I am now able to focus, enjoy life and feel good.

Life is a journey and has many ups and downs. But no matter what path my journey will lead me down . I know one thing is for certain. I will never take my health for granted under any circumstances. fitness will forever be a part of my lifestyle. Your health is your wealth. Thanks D&M!" - Ownika Mc.
Lost: 36lbs | 8.3% bodyfat
---
---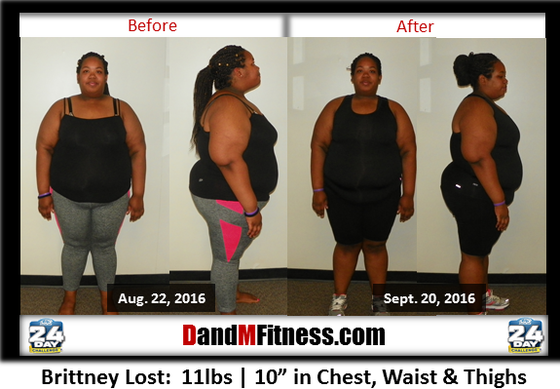 ​​"My training with Don & Marilyn at D & M Fitness combined with the AdvoCare 24-day challenge, for me, has been a major adjustment. My initial thought was of all this being just a basic use to jumpstart the areas in your body that need to get moving and functioning; it was a little more drastic for me than that. It really opened my eyes to the things I didn't know, things I didn't want to know and the things that I honestly will never let go of. I had the mindset in the beginning that, "oh it's just going to be a little cardio, some weights…nothing extreme" (inserts rolling eye emoji lol). This has honestly been the HARDEST thing I have had to do to date. Training & BOOT CAMP is no joke (I was suckered into that one). Understanding that in order to be a better person, you have to do things you've never done, was a wakeup call. Working out has never been a thing for me, neither has eating every 2 to 3 hours, but just like anything else…it's a process. I still struggle with eating (that's the whole battle) & even keeping up during workouts, but I'm getting better. I can see I'm not as sore or tired, I can get my meals in, and even make it up 3 flights of stairs without getting AS winded.
Anything worth having is worth fighting for. I'm still fighting, because 24 days is nothing compared to the rest of your life! My journey with D&M and AdvoCare will continue and so will my results." – Brittney B.
---
---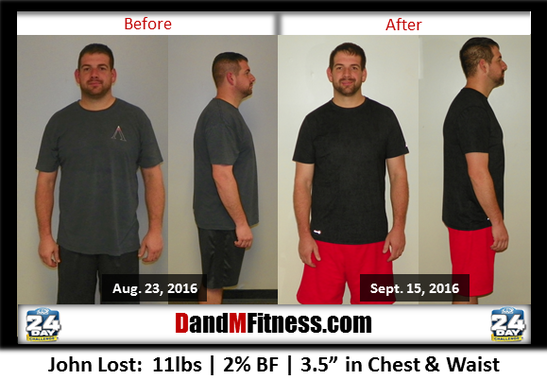 "I started my journey at D and M Fitness on August 23, 2016. I started working out at D and M fitness because I was ready to make a change, but was not getting the results I wanted to see on my own. The atmosphere and motivation at D and M fitness makes such a difference and has helped me to actually enjoy working out. Every day I come in for a workout, I feel motivated and I push myself further than I ever have. Ever since I started working out at D and M Fitness with my fiancée, I have lost body fat and have greatly improved my strength. On the 24-day challenge, I was able to text Don whenever I had a question about a post workout meal or anything about the challenge. Having that support definitely made a difference! The old me was used to eating any and everything I wanted, but this new journey has encouraged my new lifestyle. I'd definitely recommend the 24-Day Challenge to help jumpstart your weight loss journey. Anyone who is looking for an extra push or something different should start the 24 Day Challenge and workout with D and M Fitness!" - John Mc.

---
---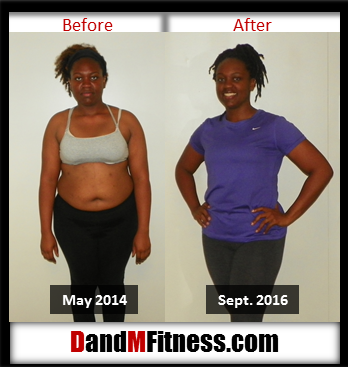 ​"​I've been going to D & M Fitness for about 2 ½ years. My weight loss journey has been a great, but challenging learning experience. Thanks to Don and Marilyn, I have watched my body transform and do things that I would have never imagined I would be able to do. Every workout pushes me to do more than I did before. I am so grateful for Don and Marilyn for training and motivating me to live a healthier lifestyle. The best decision I ever made was to "just keep going!" I'm definitely looking forward to reaching my next fitness goals. If I can do this, then you can too! Thanks D & M Fitness for continuing to push me!!" - Ruthie I.
Lost 29lbs | 7% BF
---
---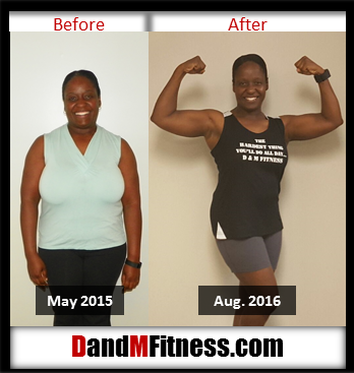 SO I DECIDED...Lost 35 lbs | 30" | 8.1% bodyfat
My name is Valerie Lloyd and I am a 45 year old wife and mother of a 3 year old little boy and a 10 year old little girl. Growing up I was always involved in athletics and/or dance, and I always knew I wanted to be a wife and a mother of a boy and a girl and God has blessed me.
What I didn't know or recognize was the challenge, like every other woman, that comes with being a wife, mother, and working professional.
The constant pursuit to maintain a good work life balance.
The first challenge came after the birth of my daughter. While learning to be a new parent I found myself at 190lbs with not enough energy to do the things I wanted to do. As I got older my body changed, and my metabolism slowed. SO I DECIDED… I needed to get in shape, so I found a boot camp attended for 2 years, got in shape, and then became pregnant again. By the time my son was 2 I was back at 190 lbs again.
SO I DECIDED……. in April of 2015 that I wanted to be around to be the best wife and mother and ultimately to be the best me! That is when I found D and M Fitness through some friends who had interacted with Don and Marilyn and one who was at the gym doing personal training.
​
Don and Marilyn introduced me to a new ways to transform my body. I can move 45lb dumbbells, run Spartan Races, or just play outside with my kids, and I am excited every day when it is time to go workout. Thanks to Marilyn I have a better understanding of how my body reacts to cardio and strength training, and I recognize that slow and steady wins the race. I have lost 35 lbs to date and I plan to continue my journey to tone, get stronger, and maintain the good work life balance I have today.
Effective weight training, Advocare products, and surrounding myself with like-minded individuals "on the playground" (D and M Fitness) has contributed to my transformation over the last year to being confident in the knowledge that I will no longer be limited by my physical state but only by the belief that I can!!!!
YOU JUST HAVE TO DECIDE!!!Proverbs 11:14
Where there is no guidance, a people falls, but in an abundance of counselors there is safety.
Thank you D and M
​- Valerie
---
---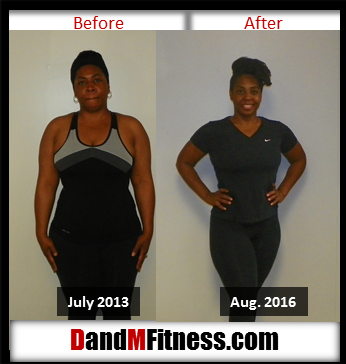 ​​

​"Don and Marilyn are truly excellent trainers. Marilyn is the perfect combination of tough and warm. She has worked all of me! Mentally, emotionally and physically. Due to both of our efforts, I am stronger, more confident and I have become a better version of me! Working out has become a wonderful part to my journey to the healthiest me I can be! I recommend D & M without reservation." - Vicki C.
Lost 39.5 | 8.3% bodyfat
---
---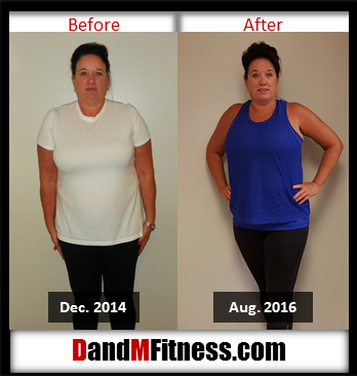 ​"The 2nd week of December 2014, I felt terrible physically, depression had snuck in and I was having anxiety attacks. I was on medication for the depression and anxiety. I took sleeping pills so I could sleep. My relationship with the Lord was suffering. I picked up my iPad and googled personal trainers. Don and Marilyn popped up. My weight loss journey began. I've lost weight but have gained so much more. In the first 4 months I was able to get off all medications. Physically I am stronger than I have ever been, mentally I am more confident. I've met some incredible women who encourage me to never give up. Most of all. I feel extremely blessed that Marilyn has pushed me to be the best I can be." - Kathy S.
Lost 15lbs | 2.7% bodyfat | 4 dress sizes
---
---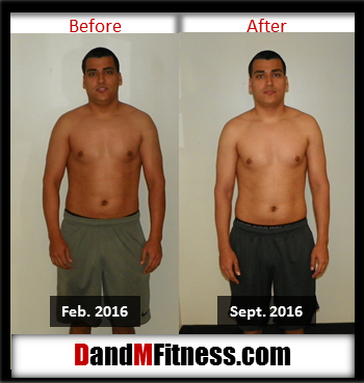 ​"I started my journey at D and M Fitness on February 1st, 2016. I started working out at D and M fitness because I was not getting the results I wanted from going to the gym. The atmosphere at D and M fitness makes such a difference in my workouts. Every day I come in for a workout I feel motivated and I push myself further than I ever have in any workout. Ever since I started working out at D and M Fitness, I have lost body fat and improved my strength significantly. I have also seen my endurance improve every week. D and M fitness does not just help in the weight room, they also help you out on your diet. Ever since I have started working out with D and M Fitness my diet has significantly improved. I am more aware of what to eat to get better results. I am not at my end goal yet, but at least now I know that I am on the right path to achieve my goals. In my short time at D and M fitness I have seen major improvements in my body and how I work out. I am looking forward to pushing myself and surpassing all of my goals." – Julio C.
Lost 15lbs | 3% bodyfat
---
---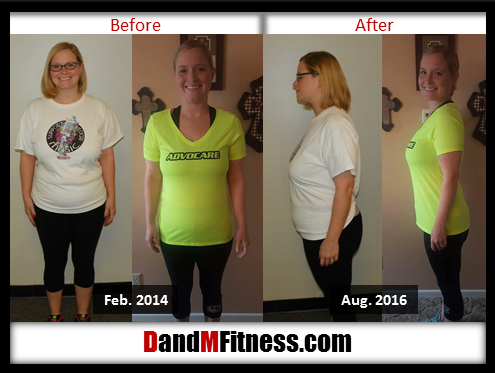 ​"This is my success story! My journey with AdvoCare wasn't short...it wasn't instant, but it is permanent! I gained 80 lbs with my last child and I was down...very depressed, and that led to more weight gain and very serious health issues. Here's the good news: YOU CAN CHANGE, YOU CAN FEEL GOOD ABOUT YOURSELF AGAIN, AND YOU CAN HAVE ENERGY!" - Jenny P.
---
---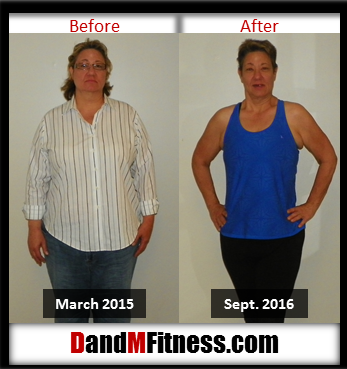 In 2015 I had lap band surgery. After losing 50 lbs my weight loss progress slowed down. My doctor said the words I never wanted to hear…."you need cardio." I'd never stepped foot in a gym and until that moment never thought I would. My cousin is a personal trainer and a huge AdvoCare supporter. She recommended Don and Marilyn, saying she would train with them if she lived closer. She is in great shape and credits AdvoCare. After losing 40 lbs I hit A Plateau and the weight stopped dropping. Marilyn suggested the 24 Day Challenge. From the Challenge I lost 6 lbs, 7" from my chest/waist/hips and 4% body fat. Needless to say I was off to the races again.
I've been with D&M for 1.5 year and it was the best decision for me. The personal relationship I've developed with Don and Marilyn make me want to work hard. As I reflect over the last year and an half I realize how pivotal Don and Marilyn's belief in me gave me the strength to push myself and dig deep. I appreciate Marilyn's no-nonsense approach. She genuinely cares and wants me to succeed. Since joining D&M I've lose an additional 83 lbs! I'm in better shape now than I've ever been. Don't tell Marilyn….but I couldn't have done it without her!" - Deanna A.
Lost 83lbs | 11 % bodyfat
---
---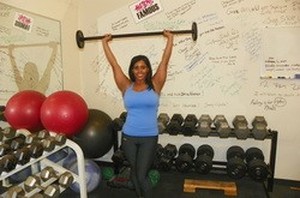 ​
A New Me...
Growing up with two other sisters at home I was always the biggest of the bunch. I use to envision myself and how I would look in certain types of clothing without all the bulges and rolls attached. I would look at how the clothes would fit on the mannequins in stores, my sisters, friends, etc. and just say this will be me one day. I knew one day I would get my mind right and decide it's time for me to do the right thing.
Before joining D & M Fitness, I tried all kinds of weight loss methods. I took diet pills, drank teas, exercised occasionally all to try and lose weight, but nothing helped. I would lose a couple pounds only to gain them right back. So finally I decided last year November 2011 to get my mind right and since then my life has changed.
I joined D & M fitness with the determination that this time I wouldn't fail at losing the weight and would get to where I wanted to and should be. I started working out regularly and eating better. Instead of relying on the convenient processed foods, I started cooking and integrating fruits and vegetables into my daily diet and meals. I learned to eat to fuel myself instead of comforting me.
I never knew once I started exercising and eating healthier that this would have such a positive effect in and on my mental health. Since exercising I am a better person, I have more energy, better moods, I sleep better at night, and most of all my family has a better me to have around feeling more confident than ever. Some days when I get to D & M I feel overwhelmed, depressed or even in a bad mood but once I walk through the doors everything or any feelings I had are forgotten.
Although Don and Marilyn kick my butt, I look forward to my workouts because I know when I'm done I'm ready to take on anything; even the world. D & M has taught me how to take care of my mind, body and soul; all with living and eating better. Being a part of the D & M Fitness is more than just a gym because when I'm here no matter what my life or day look like, I feel surrounded by family.
At D & M you can't help but to have fun, feel loved, good conversations (in between catching your breath) and have a positive attitude. Besides D & M mad skills, what separates them from other trainers is the Love and Respect they have for their clients. Thanks D & M for the new me and the way you all have helped in this one year to change my life! In one year I have gone from a size 14 to 8 and I give all the gratitude, love and thanks to you all for the guidance, love, and support that you have given.
D & M Fitness Rocks!!!!
- Landus
---
---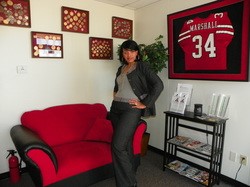 Inspiration
This has been one of the hardest things that I have had to do in my life. When I made it up in my mind that I wanted to be healthier, I also decided to quit smoking. Conquering smoking and weight loss at the same time was a huge challenge, but I wanted it and God saw me through it.
As with most women, I became busy with life and forgot the importance of taking care of myself. I was basically taking care of everyone except me. My body didn't feel the extra pounds I had gradually put on over the years. I had bad eating habits, no time for exercise and no real desire to be healthy. I think I may have been in denial because I didn't consider my health bad. I did not have any major health concerns such as diabetes or hypertension but I knew if I kept doing what I was doing to my body, I was probably heading for all types of health issues.
It was like a light bulb had gone off in my head one day, actually it was August 30, 2009 to be exact, that everything started to change for me. I had previously spoken with a coworker and she mentioned that her daughter was seeing a personal trainer and she had been thinking about do the same and she gave me a gift certificate to try it out as well. That was the best gift that someone could have given me at that point in my life. Marilyn has pushed me, encouraged me, and listened to all my complaints, and it's worked. I'm happy to say I have never been physically stronger than I am at this moment in my life and 66 pounds lighter. I'm also working on eating only a clean, healthy diet.
Through all my weight loss, the one thing I've discovered is that you may be what you eat, but you are also what you think. If I felt like a failure, I was going to fail. But now, when I start having negative thoughts, I remind myself that even when I slip up a little, I am a success, and I will always be a success story. - Sharon
---
---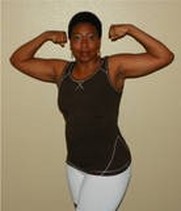 ​Celete's Story

So do not throw away your confidence; it will be richly rewarded. You need to persevere so that when you have done the will of God, you will receive what he has promised. Hebrews 10:35-36

When I first started gaining weight it didn't bother me. I was excited; I was finally getting my "womanly" curves. Life got really busy and I stopped focusing on me and my health. Somewhere along the way I took my eyes off the road and my curves took a wrong turn. When I finally noticed the weight I had gained, I opted for a quick fix because I didn't have time, so I tried the different diet pills without changing my diet. Of course they worked, but then I gained the weight back plus more.

By this time my self-esteem was severely wounded and confidence fading. In May 2009 came the final blow, I lost my job. Now I was out of shape and out of work. My confidence was gone and I was stressed out; I was barely hanging by a string. Fortunately that string was tied to my heavenly father and He knew exactly what I needed. Enter Marilyn Marshall and D and M Fitness!

Now, exercise was nowhere on my list of things I needed to do, nor did I see how it would help my current situation. But God knows all and sees all. I would work out with Marilyn before beginning my "work day" (searching for a job)! Marilyn was not only my personal trainer but also a spiritual trainer. She would beat my body up with her "last set, best set" but she also lifted me up. Whenever I cried "I can't do it", she would shout back, "Yes you can!"

It was amazing to see how my body and attitude has changed. I feel like a new person. I am not sure who this person is, she seems a little familiar but I know I like her! This journey has taught me so much. My confidence is back, I feel stronger, renewed! D and M Fitness has truly been a blessing for me and I thank God for placing them in my life! - Celete
---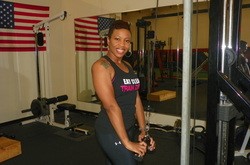 I Got This!
I have always been the thick girl. And I was ok with that because in my mind I was not fat, just thick. Well, there is a very thin line between being thick and overweight! Deep down I knew I was overweight and I didn't like it at all. I have always wanted to be a smaller size but never thought about the most important issue…being healthy. I have tried every quick fix to lose weight and succeeded. Only to gain the weight back because I didn't do it the correct way.
In the fall of 2010, I was invited to a bootcamp that was held twice a week. I decided to see what it was about and I attended faithfully. As soon as the class was over, I would stop by a fast food restaurant and take dinner home. I continued bootcamp until the classes stopped in the summer of 2011. I had not lost the weight I wanted to or should have. This was due to me still making poor choices. For whatever reason, I felt like I could eat whatever because I was working out. I soon found out that you can't work off a bad diet. I was not holding myself accountable for my actions. In 2004, I was diagnosed with Lupus. I quickly realized that if I did not get it together my weight was going to be a bigger issue than it already was for me. In order for me to be healthy and keep my Lupus under control, I had to make exercising a part of my everyday life.
While leaving from church, September 2011, I noticed a vehicle with a D & M Fitness decal on it. I inquired about their services, took their business card and gave Marilyn a call. At that time we set up a time to come in and try their services out for three days. After the first session, I knew this is where I needed to be. Marilyn has pushed me beyond those limits I had set in my mind. I have always been so set on seeing a certain number on the scale and not paying attention to my body transform. Since being at D & M Fitness, I have watched my body transform and the scale has moved greatly in my favor. Even with Lupus, I have built stronger muscles. My body is not tired and my joints aren't stiff. I am just amazed at the changes my body has done and how physically strong I have become. My mindset is totally different now. If you want change you have to do something different. D & M Fitness is exactly what I needed.
I have run in three obstacle races over the last year. Me running before would have been out of the question! I've lifted weights that I thought I couldn't. I have learned to not set limits on what I can do. I love to challenge myself now and congratulate myself when I accomplish something new on this journey. Being healthy and fit is now a part of my life and I love it. Thanks to Don & Marilyn for the encouragement, love and dedication they give to their clients daily. In Marilyn's famous words "you got this", yes Marilyn I got this!!
Thanks D & M Fitness!!
-Kenya
---
---
OUR JOURNEY
"The race is not given to the swift nor to the strong, but to he that endures until the end…" That scripture applies to our journey from an unhealthy lifestyle.
Our journey has been about reducing our "real estate" (our size and weight). Let me tell you that from the beginning, we never had any idea that we would get as big and out of shape as we had gotten. The weight just crept up on us. We kept planning to lose and endured several diets in our attempts. We tried Weight Watchers, Butter Busters, diet cookies, South Beach and Richard Simmons to name a few. Sure, we lost weight only to gain it and more once we completed the regimen. Why was that? We did not incorporate exercise or a changed lifestyle.
During our Twenty-one years of marriage we have had three children, which generated more weight with each birth. We became less active due to the change in lifestyle and our servant hood to the children. We inadvertently, put our own health on the back burner, not realizing that we were doing a great disservice to God, ourselves and the children. We say this because the word states in I Corinthians 6:19 "...do you not know that your body is a temple of the Holy Spirit..." We allowed the home (body) in which the Lord lives to become dilapidated. We kept starting and stopping different diets to stop again. As life would have it, John became ill with Atria Fibrillation (an uncontrolled rapid heart rate) and sleep apnea (his breathing would stop or become dangerously shallow while sleeping). We really packed on and in the calories and were paying the price. He could not be active for fear of the rapid heart rate for twelve years. My life style and activity mirrored his and thus, we both became unhealthy. We were easily tired and stressed… unable to play a normal active role in the lives of our children. Our wake up call was the deaths of our parents due to congestive heart and kidney failures, high blood failure and diabetes. Realizing that we were on the same path, we decided that we did not want to "go out" like that. We did not want to succumb to our food addiction and our being allergic to exercise.
John had corrective surgery for the rapid heart rate and after the recovery period we decided to seek help form Don & Marilyn. Our journey began when we met Don & Marilyn who challenged us to exercise and train with them. I remember telling Marilyn that" I don't sweat." She said that I never exercised with the right amount of intensity. I still hear her…"Last set - best set! Come on Tonya… Push it!" I appreciate how she encouraged me and beat me down to build a better me, physically. I have lost forty-seven pounds and dropped from a size 18-20 to a size 12. We are still works in progress and loving every minute of it. My excitement about life has returned.
Don has been patient with me while inspiring as a trainer and friend. He took into consideration my condition and worked with me as I progressed physically. I have gone to barely moving to doing things that I couldn't imagine. He took into consideration the medications I was on (approx. seven different ones), the side effects that came with them and finally I was taken off of them all for a period. A new health issue popped up and I'm temporarily on three new medicines. My heart specialist says if I continue the healthy path I'm on, I will soon be off of those too. I reduced from 292 lbs to 243 lbs. My weight has since increased approx. 7 lbs. after being placed on the new medications. We are better at dealing with family issues, I am able to help around the house – inside and out, and I don't fall asleep any time I sit down any more. I feel like I have been reborn. I have life and can participate again.
In summary, it has been a blessing to working out together and we are and have been having so much fun on our journey to fitness. We ache together, laugh together and encourage each other. Part of our formula for success is that we joined together and work out as a team. Doing this as God designed marriage…As one. We challenge you to get up and get moving and you will be glad you did! - John & Tonya
---
---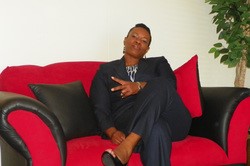 ​
Giving Myself Permission To Succeed
Most of my adult life, I have been overweight. I have been on several diets over the years, and I have lost large amounts of weight, only to gain that weight back plus some additional weight. I always seemed to lose focus during the journey, and I started putting other people and things before taking care of myself. Like most other people, I wanted the weight to go away fast with little or no effort on my part. Looking back on it now that was a lot of my problem. Over the years, I learned many ways to fail, but I did not determine how to have permanent success with my weight loss goals.
In May 2010, I felt as though part of me had given up and that maybe I did not have what it took to lose the weight. I cried and prayed, but I did not do anything to make any changes. I let fear control my choices. I continued to give myself permission to fail.
In July 2010, my doctor told me that my glucose levels were higher than my normal. Since diabetes ran in my family, doing nothing was no longer an option. I was not willing to allow myself to become a diabetic. That day I decided that I could no longer try to conquer this battle on my own. I decided I needed a personal trainer. I did not want to be involved in a large group setting. For once, I wanted it to be about me and my individual needs. I prayed and asked God to help me find the best trainer for me. That evening, I ran across D&M Fitness's website. After the first conversation, I knew Marilyn would provide the one thing I lacked all the other times I started my weight loss journey….
accountability
. Some might say finding the website was a coincidence. I say it was an answered prayer.
Now in May 2011, I am 50lbs. lighter. I feel stronger and healthier than I have felt in a long time. It amazes me the things that my body can do now. Marilyn pushes me harder than I have ever been pushed and she expects more of me, which helps me expect more of myself. This time, I truly believe that I will reach a healthy weight. One of my favorite quotes by M.E. Kerr is "Obstacles are challenges for winners and excuses for losers." I no longer give myself permission to quit. Now, I am focused on the next 50lbs. Every day I remind myself that I CAN DO THIS! Every day I give myself permission to succeed. - Eugena
---
---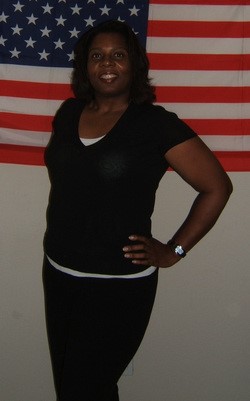 ​
Coming Out of the Dark
~ One Woman's Journey ~
About a year ago, I was diagnosed with GAD (Generalized Anxiety Disorder). I went to doctors, specialist, took all sorts of miracle drugs, you name it and I had either heard of it or tried it. I spent lots of money and time in search of a cure. During all my searches, every professional told me the same thing and that was "You have to get involved in a regular exercise program". I kept hearing it but didn't want to do it (mostly because I was exhausted and panicked all the time). I could not drive except just enough to function. Just going to work every day was a challenge that required prayer from the time I woke up to the time I got in the car. I would pray all the way to work and arrive mentally and physically exhausted. For me, panic attacks were a way of life. It was very common for me to be pulled over on the side of the road in a full blown panic attack. One day I went to another specialist and she prescribed anxiety medications and sleeping pills (I couldn't sleep either because I was panicked about the next panic attack or drive to work). When she gave me the medicine, I near passed out just hearing the side effects but I reluctantly took them anyway. I was put in a zombie like state just to function daily. The doctor told me to plan on being on medications like that for the rest of my life. I knew in my heart that God didn't intend for me to live like that. I didn't know how I would overcome it but I never gave up on finding a way out of the hell on earth that I had found myself in. I never stopped praying. I prayed without ceasing asking the Lord to show me the way. One day, a voice rung in my head and it was a combination of all the professionals I'd seen over the past few months. It seemed that all these people, while in different fields, were saying the same thing. "You must get into a regular and regimented exercise program". For me it was about having the good hormones (that occur when you are taking care of your body and exercising) take over the negative ones that had spiraled out of control.
Enter D and M Fitness. I had never been a member of a personal training facility before. I had gym memberships in the past and was always what I call a FOE (faithful occasional exerciser). One day I walked into the facility and was greeted by Connie Hill. She explained the whole personal fitness concept to me and ended up referring me to Marilyn. Marilyn called me a couple of days later and left a message that she hoped to hear from me. I called her and set up an appointment. I told her my story and told her that since the doctors said I needed fitness in my life, I would give this a month and be on with life as I knew it. (You see, I still didn't get). Marilyn just said ok. Well, that was Oct. '05 and I'm still faithful to the program! I wouldn't have guessed I would have survived this long and didn't plan on being there for more than a month! But since then, I have dropped several numbers on the body fat (Richter) scale. Dropped 2 (very near 3) dress sizes. I no longer shop in the Plus Women's department and my body is sculpting into something I could never imagine. People are always commenting on my body structure and how young I look (compared to before). A couple of months ago, I experienced what is know in the runners world as "runners high". I had heard the word before but never associated it with me (that was a word reserved strictly for athletes-which I was not!). Well, guess what? It happened to me and let me tell you it was something to experience! When I got off that treadmill, I was jumping up and down and Marilyn was right there to encourage me on. I can now run very near 2 1/2 miles non stop in 30 minutes but more than that, I no longer take anxiety medications and I can now drive without having to take a pill to get me there. I no longer feel like a walking zombie. With the help of D and M Fitness (and the Lord's favor), my good hormones are now in control. Praise God!
When I asked Him to get me through it, little did I know, this would be how He would do it. I also had to learn that anything worth having requires work (Marilyn constantly reminds me of this). You see, I had faith that God would get me through it but "Faith without works is dead". So I had to work and I did and I still am. I hope that my story helps someone out there as I am told that there are many people (especially women) that live with this awful condition each and everyday. Anxiety and Depression is very real and according to the professionals, eating right and exercising is an absolute MUST in order to recover. I am grateful to be a part of "The Zone" and I actually look forward to being "busted up" by Marilyn.
Thanks Don and Marilyn for each and everything you do. Your tireless devotion to your clients is an absolute blessing and I know that I would not get this sort of service (and at this price) anywhere else. - Tonya
---
---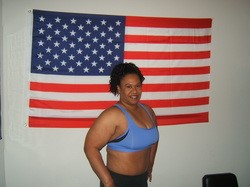 A Portrait of His Love "Beloved, I wish above all things that thou mayest prosper and be in health, even as thy soul prospereth." 3 John 1:2
​
Often times when we have experiences that are painful and traumatic, our minds develop a survival tactic without us ever detecting it. We continue on with our lives in years of denial not even knowing that we have become friends with suppression and depression. We deny that the experience ever happened and learn to survive through surrogate fulfillments that make us whole, but only temporarily.
It is usually not until our physical anatomy starts to manifest the depth of our emotional scars that we began to realize the experiences that have been deeply disguised. The root (the experience), which has grown so deep in the darkness of our hidden sorrows, absorbs all the substance of our self-control, until a glimpse of light or hope exposes it.
My journey into obesity started just that way. In my early childhood I experienced a very traumatic ordeal. I was abused at the hand of someone very close. The person I confided in for help and comfort did little, if anything, to help me through the hurt. The person was never confronted and my problem was "hushed" and never spoken of again.
Feeling rejected, helpless, ashamed, guilty, and alone, I began to pray and ask God to send me an angel. Someone who would love me, protect me, and take care of me. And God did just that! He sent me a man who had genuine love for me. I was able to openly communicate with him about my past and he helped me know that I was "someone" special and he loved me for who I was.
We were married on 1987. After marriage and children, I focused on making everyone around me happy and neglected my own needs and wants. I began to pile on more and more weight. Although I was happy with my life, something was still missing. I started diet pills and many other lose weight quick programs. I lost about 50 pounds, but was afraid to eat anything sweet for fear the weight would return. None of the programs gave me the satisfaction of losing weight and keeping it off permanently.
The Turning Point!! In December 2001, I was seriously overweight and my health was at risk. My blood pressure was up and my body fat was 49%, almost half of my body. My weight had increased to 295 pounds. I had a decision to make. I could either continue on that path or change my life. I went to a Christmas party and could hardly move in the blouse I had worn. That was it! It was up to me. I was sick and tired of being overweight. Deuteronomy 30:19 says " I have set before you life and death, blessing and cursing: therefore choose life that both thou and thy seed may live." That night, I chose to live.
Soon after, I contacted a personal trainer and my journey to the "real me" began. One Wednesday night at Bible study, I surrendered all to the Lord, every hurt, abuse, insecurity, rejection, fear and disappointment. Every lie that the enemy had told me and used to hold me hostage -- I broke free that night when I gave those burdens over to the Lord. I Peter 5:7 says "Cast all your care upon him; for he cares for you". So I took Him at his Word and did just that.
Everyday for one year I started each day with my personal devotion of Thanksgiving and personal declarations. My favorite, Philippians 4:13 "I can do all things through Christ who gives me strength". During the first year I lost 60 pounds through personal devotion and exercise -- no diets, no gimmicks, no quick fixes, just taking back what the enemy had stolen from me. The next 40 pounds came off during the second year. My knowledge of the Word had increased. I was committed, midweek Bible study, Sunday school class and reading my Bible daily. No diets, no gimmicks, no lose weight quick schemes—just balance.
I am still on my journey. Romans 8:37 reminds me "…in all these things we are more than conquerors through him who loved us." With about 40 more pounds to conquer, I am more confident than ever that I am more than a Conqueror!
With the love of Jesus, His Word and my desire to be in good health and prosper even as my soul prosper, I will continue to press daily towards that goal. I decree and declare I am a "portrait of His love" and my life is a testimony to those who struggle with obesity and self-control. Know that God can and will set you free, is up to you, choose life and start living!! - Connie
---
Subscribe to the D&M Fitness Newsletter
Get motivating health and fitness articles sent directly to your inbox.