PERSONAL TRAINING
DandM Fitness Personal Training hours are from 4:15 AM to 9 AM, Monday-Friday. We take our last client at 9 AM. Our training is by appointment only, meaning that you have a scheduled time to train...so be on time. It is your responsibility to show up ready to go to work each and every session. We will do our part, you must do yours.
Training Rates and Plan Options:
All Monthly, 6-month and 12-month plans will be set-up on an Automatic Credit Card Payment System. Please print and complete the Credit Card Information section and bring with you upon your decision to join us. ALL fees and sessions are non-refundable and non-transferable. There are NO monthly contracts to sign so you can cancel at anytime. However, on the 6-month and 12-month agreements, you are required to complete the full term. If unable to complete the term or choose otherwise, you will be billed the regular Monthly Fee for the months trained. Note: DandM Fitness reserves the right to change rates and/or services without notice.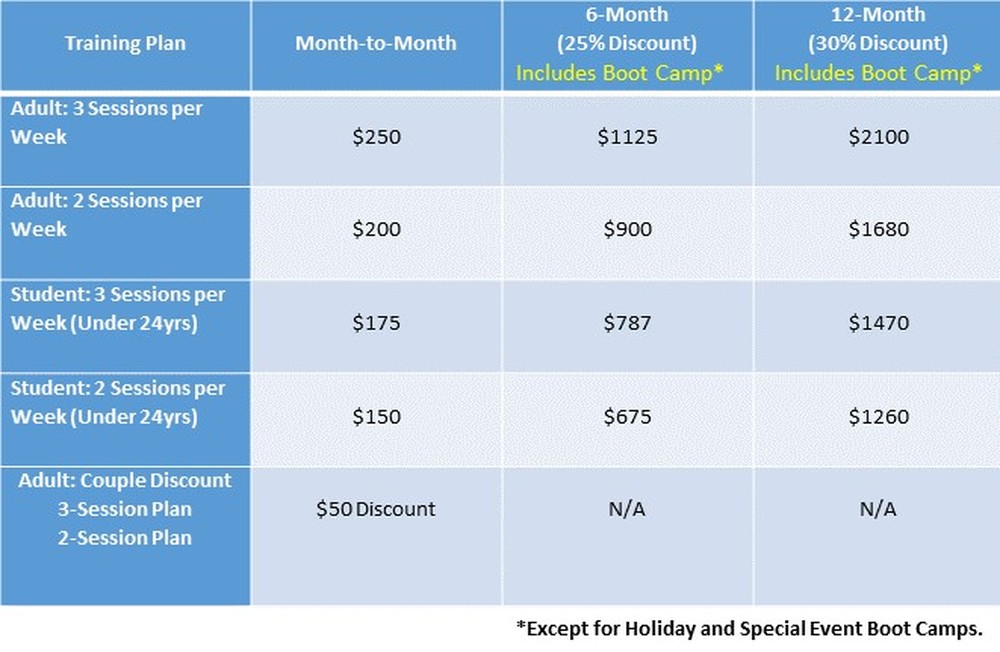 Automatic Credit Card Authorization Form:
---
DandM FITNESS BOOT CAMP
Boot Camp Description:
Looking for something different in your exercise program? Tired of the typical gym atmosphere? Our Main Fitness Boot Camp style is a 3 to 4 round 45-60 minute TABATA type workout which is a series of 20-secs of work followed by 10-secs of rest for rounds. It's designed to get you in shape FAST! Our goal is for you to burn 800-1000 calories during our any one of our Boot Camp Classes. To hit that goal, we use everything from prowler sleds, battle ropes, dumbbells, jump ropes, rowers, your own body-weight, running and much more to help you get into the best shape of your life. Be warned though, there is no "Beginner" class. You go as hard as YOU can but if you must take a breather, then by all means do so. But only you will truly know if you need a break...
just don't break in the MIDDLE of a round.
It's a workout like no other, so come prepared to go Fast and
Furious!
The Fine Print:
The program is designed for healthy teenager and adults aged 13 and up. This may not be an appropriate program for you if you have serious health problems and or joint issues. There is running, jumping, sitting/standing movements that will challenge you. Liability waivers must be signed before participating.
Remember that you are the variable in each and every workout. Put in work, hard quality work and get results...it's worth it!
SCHEDULE & FEE

Tuesdays & Thursdays at 7 AM and at 7 PM
Saturday Mornings at 5 AM and at 8 AM

Single Drop-In Rate $10 Cash/per Class OR
$65 Monthly* Subscription (54% savings) to attend Unlimited Boot Camps
(*Holiday & Special Boot Camps Excluded and Must Be on Automatic Credit Card Billing, see form above.)
---
OBSTACLE COURSE RACE TRAINING
We not only train to get you into the best shape of your life, but we also train to put ourselves to the test. Get ready to take your training off-road and to get a little dirty. These are just a few OCR series that we have participated in. Training sessions scheduled periodically. Use the "Contact Us" tab to request more info.
---